Educational project "Girl Power"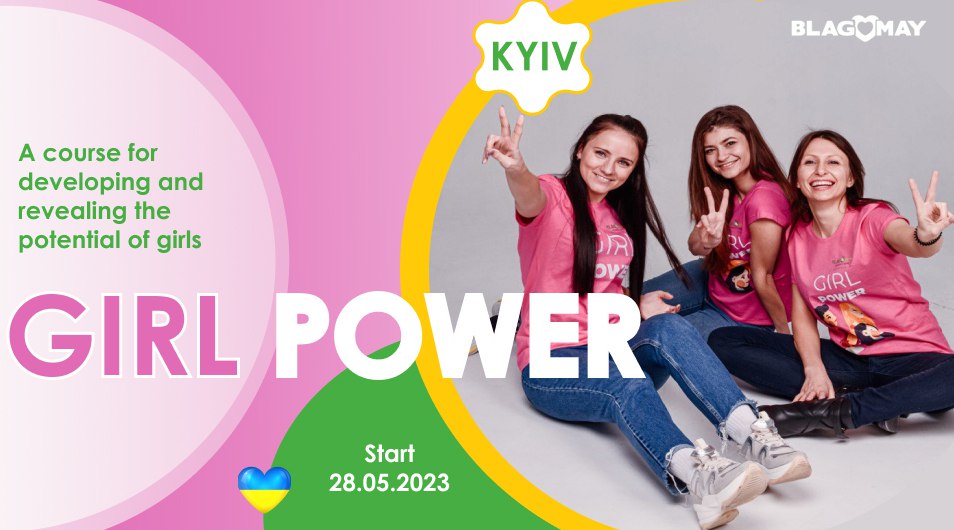 ₴365 700/3 746 336 9%
Remains to collect:

₴

3 380 636
Donate
"Girl Power Ukraine" is a unique educational project for girls aged 13 to 18 from orphanages, boarding schools, centers for immigrants, from large and low-income, disadvantaged families, who are the most unprotected and vulnerable part of society.
⚡️Our most important goal is to help girls believe in their abilities, find themselves, learn socialization, understand their rights and purpose in this world.
Every girl, regardless of the presence of parents, housing, problems, is unique and we want every project participant to understand this and be able to become the happiest person who will live in harmony with the surrounding world and herself. The project includes helping the girls in the legal field and in court cases, as well as examination, consultation and treatment thanks to our doctors, who are also project specialists.
On May 28, 2023, Girl Power Ukraine will start in Kyiv. 320 project participants will be trained in an offline format and another 700+ from all cities of Ukraine will be trained online.
As part of the educational program, the girls will undergo intensive training with the best
speakers on the following topics:
- management and leadership
- gender equality / skills in overcoming gender-based violence
- psychological protection and prevention of domestic violence
- physical and psychological health
- opportunities for choosing a profession and obtaining an education for girls
- social activity and social connections
- setting goals, how to manifest your dreams and desires, gratitude and much more.
It is very important for girls to be believed in and supported. And they get this faith and support on our project.
The budget of Girl Power Ukraine in 2023 for the implementation of the project in 4 cities of Ukraine, namely Kyiv, Lviv, Chernivtsi and Uzhgorod: $ 102 443.
Since 2020, the project has been held annually and we can already see the results of the girls in previous years, both in education and further development steps. From the feedback, we understood that these girls will now be able to confidently achieve great results in life. And we are already proud of them!
In September, a project participant, an orphan child, wrote to us that she entered Taras Shevchenko Kyiv National University at the Faculty of Economics and owes this to the project, and this is just one of many stories!
donate:
CAF America: https://cafa.iphiview.com/cafa/Organizations/OrganizationView/tabid/437/dispatch/byorganization_id$295427_hash$c005133f96833379c92606fa784a49efa5dd338d
paypal: https://www.paypal.com/donate/?hosted_button_id=LNQ72P9TS87TS
online: https://charitymay.com/uk/how-to-help/make-donation