Shelter with love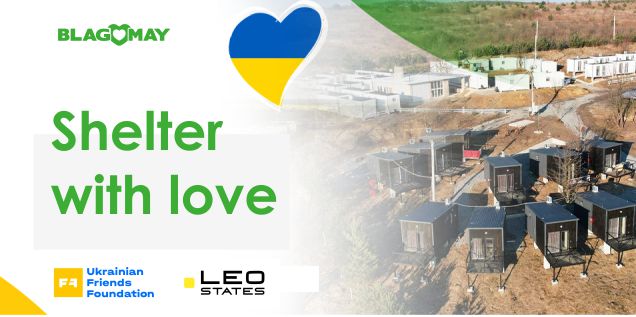 ₴6 017 781/10 000 000 60%
Remains to collect:

₴

3 982 219
Donate
The goal of the project: to create settlements for people in Ukraine who have lost their homes and jobs. Provide them with free, safe, comfortable temporary housing and an opportunity to recover.
Due to military actions in Ukraine, more than 11 million Ukrainians were forced to leave their homes. 5.5 of them went abroad, the rest are looking for shelter in the central and western part of Ukraine. A large number of forcibly displaced people have lost the opportunity to earn money and the opportunity to rent housing, and it is simply not enough for such a large number of people who are currently left without a roof over their heads.
Dormitories and centers for displaced people are overcrowded, and socially vulnerable segments of the population suffer the most from the lack of housing: the elderly, large families, family-type orphanages, and single mothers.
The solution to this problem is the creation of temporary housing for displaced persons.

What is a MODULAR house?
This is a detached compact furnished dwelling of 14.5 m2 with electricity and a toilet (shower + toilet-septic tank) for four people. SUCH MODULES HAVE an original design, they are resistant to any weather conditions: their service life is up to 10 years. Due to the ease of construction, they are a world standard and an ideal solution for refugees in Ukraine.
As part of the project, we have already installed 50 houses for 200 people, and we plan to install 10 more in the near future in the village. Khorosno, Lviv region.
The cost of 1 house and its annual maintenance is 14,087 Euros.
In order to install the next 10 houses, €140,870 (UAH 5,479,843) is needed, but only together with you will we be able to achieve this goal.
Support people, don't let them give up, together we can help them.
donate:
CAF America: https://cafa.iphiview.com/cafa/Organizations/OrganizationView/tabid/437/dispatch/byorganization_id$295427_hash$c005133f96833379c92606fa784a49efa5dd338d
paypal: https://www.paypal.com/donate/?hosted_button_id=LNQ72P9TS87TS