Support the people who suffered as a result of russian aggression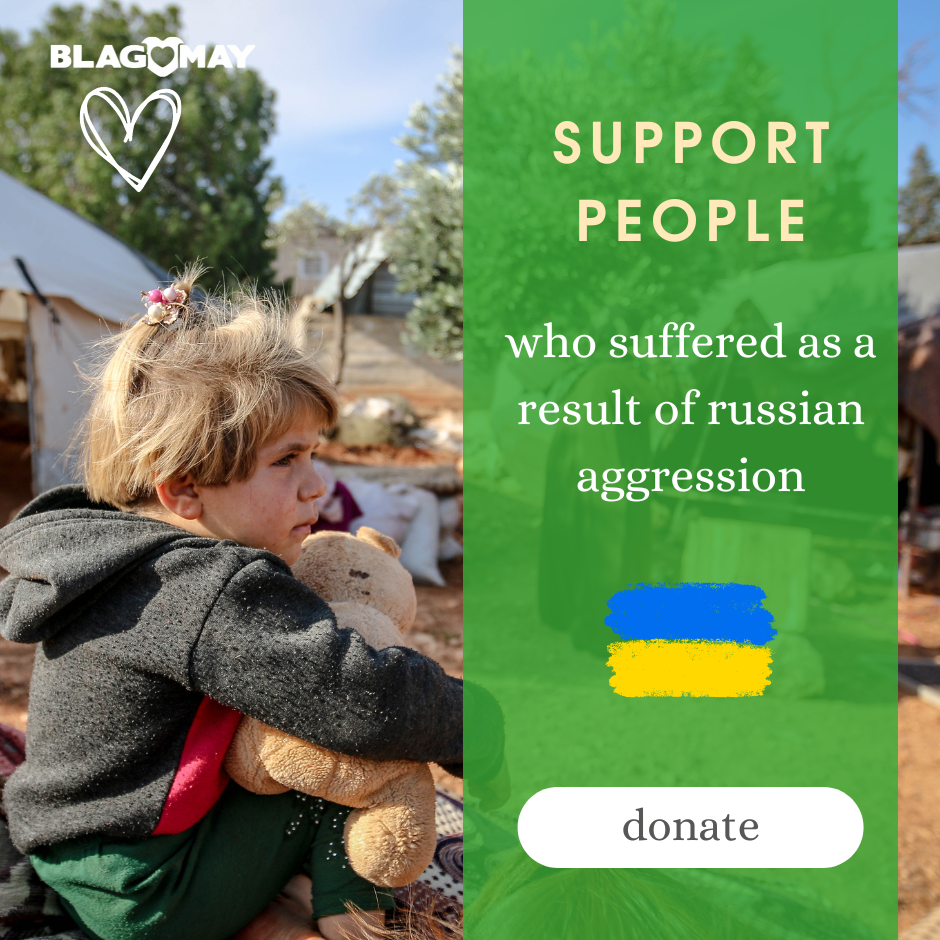 Every day, the fund receives a large number of calls from displaced persons. People, having left everything, managed to take only documents and a small number of things, fleeing from the war. Many people already live in our modular town, mostly families with small children.
People need food, personal hygiene products, medicines and much more.
It is also necessary to install new houses to provide housing for even more people. Dormitories and centers for displaced persons are overcrowded, and socially vulnerable sections of the population suffer the most from the lack of housing: the elderly, large families, family-type orphanages, and single mothers.

It is not easy to find yourself in a foreign city without housing, money and work, with small children who need to be fully fed, and there are no funds for this. In such a difficult time, we must unite and help each other.

Now any kind of support is important, we call on everyone to join in helping people who have lost their homes. Help is needed to meet people's essential needs, as well as to build modular homes where people can stay for free as long as they need.

Support people, don't let them give up, together we can help them.
You can help without leaving home:
paypal: https://www.paypal.com/donate/?hosted_button_id=LNQ72P9TS87TS
on the foundation's website: https://charitymay.com/uk/how-to-help/make-donation
or by details:
UAH

F

UA

763052990000026004036218694

, ЕГРПОУ 38010057
USD

F

UA633052990000026002026208887

,

SWIFT code:

PBANUA2X
We appreciate everyone who helps!
1%
46798.70

UAH
из

5479843

UAH
Help now
anonymous

220.00

UAH

08/06/2023 20:03

anonymous

480.00

UAH

07/06/2023 08:43

Даниель Барсегян

240.00

UAH

07/06/2023 07:32

МАНУЙЛЕНКО Костянтин Костянтинович

550.00

UAH

07/06/2023 09:26

anonymous

240.00

UAH

07/06/2023 10:54

Гецко Юлія

120.00

UAH

07/06/2023 07:50

anonymous

200.00

UAH

07/06/2023 07:55

anonymous

240.00

UAH

07/06/2023 12:20

anonymous

10.00

UAH

07/06/2023 10:03

anonymous

240.00

UAH

07/06/2023 17:55

anonymous

600.00

UAH

07/06/2023 11:16

anonymous

200.00

UAH

08/06/2023 20:33

anonymous

66.00

UAH

07/06/2023 18:41

anonymous

120.00

UAH

07/06/2023 18:58

anonymous

24.00

UAH

07/06/2023 19:10

anonymous

240.00

UAH

08/06/2023 15:51

Суворова Олена Василівна

120.00

UAH

07/06/2023 22:28

Тетяна

240.00

UAH

07/06/2023 20:41

anonymous

600.00

UAH

08/06/2023 01:51

anonymous

240.00

UAH

08/06/2023 08:22

Nataliya Levitska

240.00

UAH

07/06/2023 21:10

Гергун Тетяна

120.00

UAH

08/06/2023 12:41

anonymous

200.00

UAH

08/06/2023 18:33

Климентьєв С В

100.00

UAH

08/06/2023 08:32

anonymous

165.00

UAH

08/06/2023 12:46

anonymous

240.00

UAH

08/06/2023 01:13

anonymous

120.00

UAH

08/06/2023 07:25

Ivanova

240.00

UAH

07/06/2023 21:24

Viktorіа

24.00

UAH

08/06/2023 08:36

Кульба Андрей Владимирович

110.00

UAH

08/06/2023 12:24

anonymous

220.00

UAH

07/06/2023 21:59

Тарас Сало

550.00

UAH

08/06/2023 14:00

Зазоріна Інна

600.00

UAH

08/06/2023 17:20

anonymous

600.00

UAH

08/06/2023 14:49

Надія Шкільна

180.00

UAH

08/06/2023 11:45

anonymous

165.00

UAH

08/06/2023 11:55

anonymous

1200.00

UAH

08/06/2023 13:52

Омельченко Юлія

240.00

UAH

08/06/2023 21:26

anonymous

12000.00

UAH

09/06/2023 18:33

Река О.В.

240.00

UAH

08/06/2023 21:51

anonymous

240.00

UAH

09/06/2023 17:49

anonymous

60.00

UAH

08/06/2023 21:55

Hladkova Zoia

550.00

UAH

09/06/2023 17:52

anonymous

1008.00

UAH

08/06/2023 22:07

anonymous

120.00

UAH

09/06/2023 07:18

anonymous

240.00

UAH

09/06/2023 08:40

anonymous

120.00

UAH

09/06/2023 16:53

anonymous

120.00

UAH

09/06/2023 11:46

anonymous

360.00

UAH

09/06/2023 11:59

Kristina Kadashevych

600.00

UAH

09/06/2023 17:09

anonymous

550.00

UAH

09/06/2023 14:47

Гольцер Кирило Геннадійович

60.00

UAH

10/06/2023 00:34

anonymous

600.00

UAH

09/06/2023 23:17

anonymous

600.00

UAH

09/06/2023 22:17

Прохорчук Костянтин Сергійович

240.00

UAH

10/06/2023 00:54

anonymous

110.00

UAH

10/06/2023 10:24

anonymous

440.00

UAH

11/06/2023 06:05

Богданович Ірина Вікторівна

550.00

UAH

10/06/2023 20:35

anonymous

180.00

UAH

10/06/2023 17:01

Ковальчук Роман Олександрович

240.00

UAH

10/06/2023 11:46

anonymous

240.00

UAH

11/06/2023 20:58

anonymous

500.00

UAH

10/06/2023 20:18

anonymous

120.00

UAH

11/06/2023 19:19

anonymous

1100.00

UAH

12/06/2023 10:26

Tetiana Malyk

6.00

UAH

10/06/2023 17:41

anonymous

240.00

UAH

12/06/2023 09:21

anonymous

12.00

UAH

11/06/2023 13:47

anonymous

120.00

UAH

11/06/2023 22:07

Євген Крижанівський

600.00

UAH

11/06/2023 11:02

Ольга Поляк

200.00

UAH

12/06/2023 16:59

anonymous

360.00

UAH

12/06/2023 04:32

anonymous

600.00

UAH

13/06/2023 02:16

Климентьєв С В

100.00

UAH

13/06/2023 12:28

Олександра

360.00

UAH

14/06/2023 09:24

anonymous

50.00

UAH

14/06/2023 10:20

Оксана Люшньова

600.00

UAH

14/06/2023 15:02

Новоставская Юлия

120.00

UAH

14/06/2023 19:27

anonymous

600.00

UAH

14/06/2023 21:04

Бєляєв Євгеній Володимирович

240.00

UAH

15/06/2023 11:25

anonymous

36.00

UAH

15/06/2023 09:01

anonymous

30.00

UAH

15/06/2023 08:02

anonymous

50.00

UAH

15/06/2023 19:31

anonymous

110.00

UAH

16/06/2023 08:19

anonymous

100.00

UAH

16/06/2023 10:56

anonymous

50.00

UAH

17/06/2023 11:30

anonymous

50.00

UAH

16/06/2023 13:15

Тетяна

550.00

UAH

17/06/2023 10:05

Мусієнко Владислав Олегович

120.00

UAH

17/06/2023 11:21

anonymous

50.00

UAH

17/06/2023 14:29

anonymous

180.00

UAH

17/06/2023 22:43

Olha

120.00

UAH

19/06/2023 13:02

Кокальська

600.00

UAH

19/06/2023 13:16

anonymous

50.00

UAH

18/06/2023 22:41

anonymous

120.00

UAH

19/06/2023 18:48

anonymous

50.00

UAH

18/06/2023 15:06

anonymous

50.00

UAH

19/06/2023 19:20

Лариса Александровна

600.00

UAH

20/06/2023 09:30

anonymous

240.00

UAH

20/06/2023 10:11

anonymous

50.00

UAH

30/06/2023 19:05

anonymous

50.00

UAH

20/06/2023 19:28

anonymous

200.00

UAH

20/06/2023 22:12

anonymous

60.00

UAH

21/06/2023 22:59

Дмитро Антоненко

600.00

UAH

21/06/2023 19:59

Сергей Бражников

600.00

UAH

21/06/2023 13:18

anonymous

38.50

UAH

21/06/2023 16:19

anonymous

30.00

UAH

22/06/2023 18:43

Кульба Андрей Владимирович

50.00

UAH

22/06/2023 14:11

anonymous

200.00

UAH

22/06/2023 09:46

anonymous

24.00

UAH

24/06/2023 21:16

anonymous

120.00

UAH

24/06/2023 14:57

anonymous

35.00

UAH

27/06/2023 09:45

anonymous

120.00

UAH

27/06/2023 19:14

Перепелиця Наталія Юріївна

60.00

UAH

26/06/2023 19:28

Maria

20.00

UAH

26/06/2023 10:24

anonymous

100.00

UAH

24/06/2023 22:45

anonymous

100.00

UAH

25/06/2023 08:58

anonymous

120.00

UAH

27/06/2023 14:06

anonymous

50.00

UAH

28/06/2023 19:13

anonymous

24.00

UAH

27/06/2023 22:50

Смірних А.м.

60.00

UAH

30/06/2023 01:28

Мітюн Сергій

600.00

UAH

29/06/2023 14:57

anonymous

600.00

UAH

30/06/2023 09:53

anonymous

600.00

UAH

29/06/2023 07:36

ПРАс

120.00

UAH

28/06/2023 22:25

anonymous

20.00

UAH

28/06/2023 01:15

Савчук Ирина

100.00

UAH

28/06/2023 22:14

Піперопуло Людмила Вікторівна

240.00

UAH

30/06/2023 11:00

anonymous

1.20

UAH

03/07/2023 08:27

Левчук Ольга Василівна

240.00

UAH

30/06/2023 19:50

Лилия

240.00

UAH

02/07/2023 19:56

anonymous

600.00

UAH

01/07/2023 06:18

Tetyana Zinchenko

600.00

UAH

01/07/2023 06:34

anonymous

210.00

UAH

01/07/2023 14:12

Валентина Хвесик

240.00

UAH

30/06/2023 22:31

anonymous

100.00

UAH

17/07/2023 16:03

Вячеслав Андреев

240.00

UAH

21/07/2023 08:17

Виталий А .

240.00

UAH

23/07/2023 16:21

anonymous

120.00

UAH

23/07/2023 16:42

Olha

120.00

UAH

24/07/2023 07:16