NEW HOSPITALS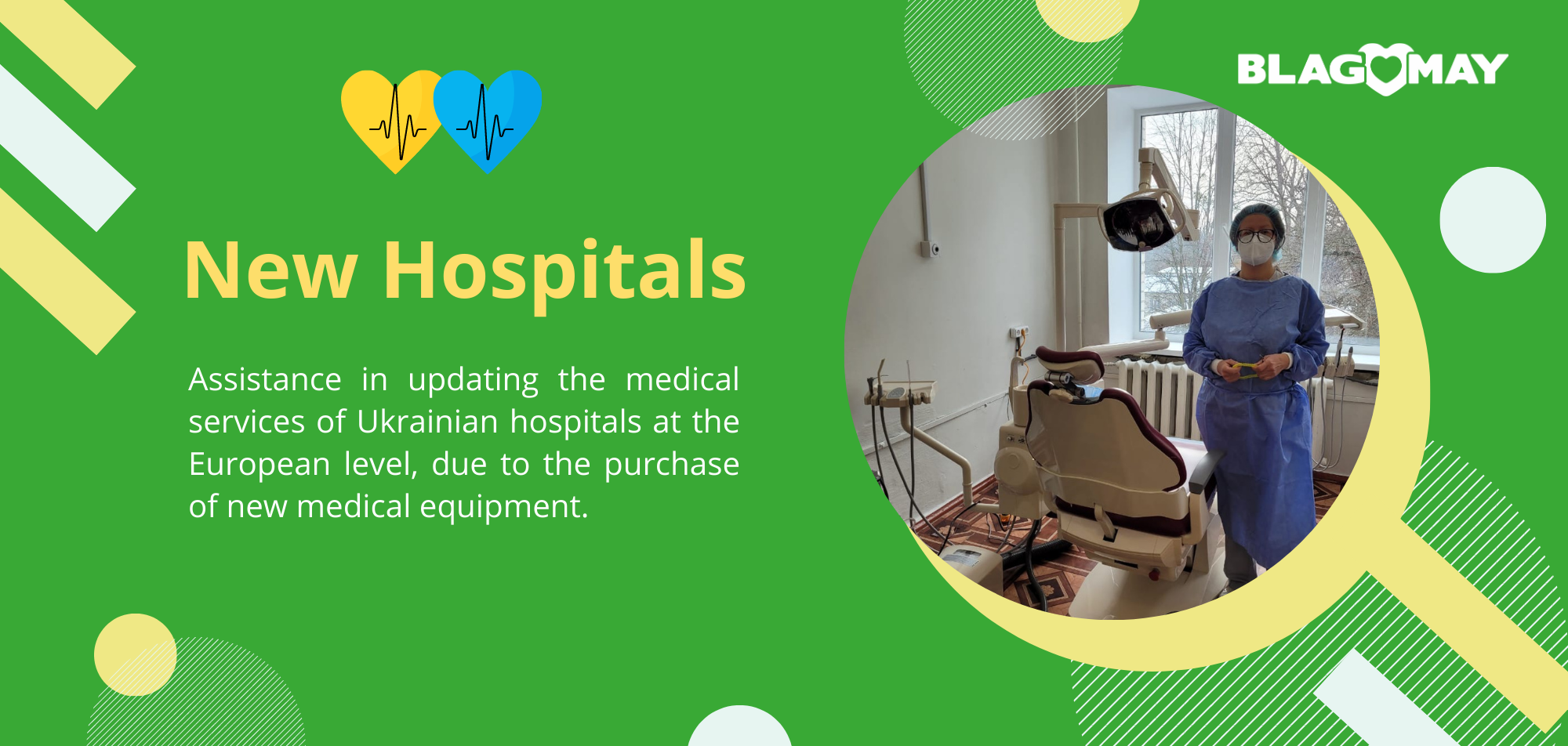 ₴0/127 380 000 0%
Remains to collect:

₴

127 380 000
Donate
New Hospitals

The project goal is to assist in updating and equipping medical institutions of Ukraine, which were primarily damaged or under occupation, with the necessary equipment for high-quality and effective treatment of children and adults.
We have a lot of professional doctors in Ukraine. But the thing is that it`s not enough to have knowledge only, if the hospital doesn`t have the necessary equipment. Therefore, every contribution is very important, because thousands of lives depend on quality of treatment.
A list of places where our help is currently needed:
Vyshhorod Central District hospital. Audiometer, encephalograpg, automatic coagulation analyzer, cytoscope, C-arm X-Ray machine, the expert classs anasthesia machine, steam sterilizer are needed. The total amount of equipment is 288 420 $.
Dymer Central Village Hospital. High frequency electrosurgical equipment, audiometer, the vacuum pump for negative pressure wound therapy, magnetic therapy machine, ultrasound therapy machine, the electric vacuum cleaner , colposcope video machine for gynaecology, transcranial electrical stimulation device are needed. The total amount of equipment is 47 892 $.
Ivankiv Central District Hospital needs an audiometer, high-end ventilator, the electrocoagulation machine, pneumotonometer, mobile shadowless operating lamps. The total amount of equipment is 72 366 $.
Makariv central district hospital needs a surgical table, electrocoagulation machine, video endoscopy system included: video gastroscope, video colonoscope, video processor, illuminator, monitor, trolley, washing machine, mobile shadowless operating lamps. The total amount of equipment is 110 524 $.
Makarov center of primary health care needs an automatic hematology analyzer, medical stretchers, transcutaneous bilirubinometer, phototherapy lamp, portable nebulizers, digital stethoscope. The total amount of equipment is 33 945 $.
Sumy regional clinical hospital needs a dental 3D scanner, video gastroscope, MRI (Magnetic Resonance Imaging), low temperature plasma vacuum sterilizer, automatic hematology analyzer, the angiography machine.. The total amount of equipment is 2 548 945 $
Sumy Region Clinical for War Veterans needs a high intensity pain relief magnetic therapy machine and magnetic stimulation machine. The total amount of equipment is 128 946 $.
* The budget of each hospital doesn`t provide for the purchase of such equipment at the expense of budget funds.
The set equipment budget is in the middle price range and includes delivery and installation.
Assistance is provided based on medical audits and with the approval of the Ministry of Health of Ukraine.
All equipment is purchased after conducting tenders in the shortest possible time and with a discount for a charitable project.
Together we are stronger so let`s unite our efforts for the future of Ukraine!